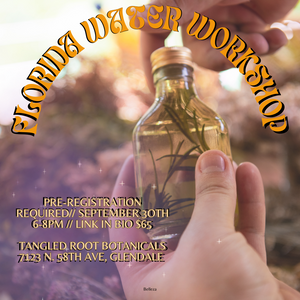 Florida Water Workshop
Sale price Price $65.00 Regular price
Create and craft your own Florida water or Agua de Florida. 
Florida water is a very unique 'perfume' commonly used as a cologne and in spiritual practices and rituals. It consists of a blend of floral, citrus and herbal components creating a fresh and invigorating energy. Traditionally, Florida water has been used for energetic, cleansing, meditation and as offerings. The user of Florida water may clothed in protection against negative influences and to attract positive energy. By making it yourself you can customize it to your own unique spiritual needs and intentions. 
Join Herbalist Merihelen Nunez to learn how easy it is to make your own Agua de Florida at home.
In this class you will make and take each of the following:
-Your own Florida water to infuse at home 
-Spray of homemade Florida water customized for your own specific needs
Fee: $65
September 30th 6-8pm
Instructor: Merihelen Nunez