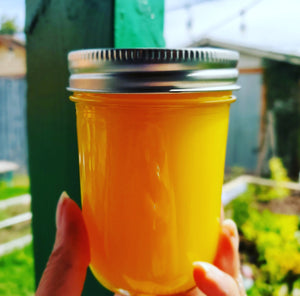 Ginger-Turmeric Immune Support Elixir
Sale price Price $15.00 Regular price
Elixirs are available by pre-order only and are for LOCAL PICKUP on Saturdays at this time.  They must be ordered by Friday no later than 3pm for next day pickup.
We like to take this combination in mini shots (1 oz) or, what we like to call double gulpers (2 oz) for a quick boost during the day. At night we enjoy this tonic as a warming supportive tea by adding 2 oz of Ginger-Turmeric Immune Support Elixir to steamy, hot water, capped off with a nice dose of honey... easy and peasy!
Contains: 8 oz     Serving size: 1 oz    (Contains 8)
Ginger-Turmeric Immunity Elixir: 
Ginger Root / Rhizome*, Filtered water, Turmeric root *, Cinnamon bark*, and Cayenne fruit*, Apple Juice concentrate.
*This product is not intended to diagnose, treat, cure or prevent disease.  This information is purely intended for educational purposes only.