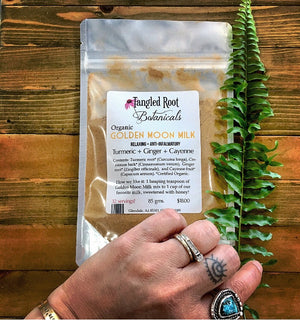 Golden Moon Mylk
Sale price Price $21.00 Regular price
Refuge and support when you need it most. Golden Moon milk is like a welcoming hug of self-care. 
We love it for:
relieving arthritis and joint discomfort
easing body pain and sore muscles 
supporting and boosting the immune system
*Feels like soothing support from a yummy cup of turmeric goodness!*
Golden Moon Mylk mix can also be added to just about anything for an added dose of self-care! We love it in hot water with honey making it as a tea, added to our smoothies for that extra oomph, and of course, it is just so easy to add to our family's soups, and stews to maintain wellness throughout the year!
Contents: Turmeric root *, Cinnamon bark*, Ginger root*, and Cayenne fruit*.
*Certified Organic
This product is not intended to diagnose, treat, cure or prevent disease.
85gms = 32 servings