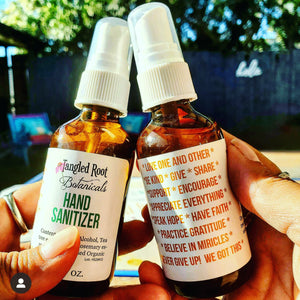 Hand Sanitizer 2 oz.
Sale price Price $9.95 Regular price
It's a big hug of health! 
The words of hope on this sweet bottle of hand-sanitizer were thoughtfully designed in the packaging of this product to assist our emotional well-being while the all-natural and organic ingredients inside the bottle are made with potent, antiviral essential oils.

This product contains approximately 250 uses.
Each bottle contains: 95% Grain alcohol, essential oils of *Rosemary and *Tea tree.
*Denotes Organic
-Handmade
-Responsible, Ethical and Sustainable
-100% Recylable Packaging
Tangled Root Botanicals is committed to crafting earth friendly, plant based products.
Limit 2 per customer.