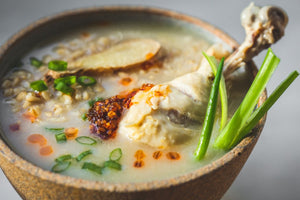 Ancestrial Remedies for Winter Months
Sale price Price $77.00 Regular price $0.00
Monday, October 20th, 2019 at 9 AM – 12 PM
What a class! It's fun with lots of food!  You'll get to learn what foods we use as medicine along with the herbal remedies that have been utilized for centuries by our ancestors. Find out how to prepare these age-old remedies to boost immunity and combat all those nasty seasonal illnesses. In this class we will be making immuno-syrups which are great-tasting, health boosting elixirs to strengthen the body and spirit!
BRING YOUR APPITITE! You will be sampling health boosting foods that contain herbal support that you'll enjoy consuming! Note: Some food will be made with meat and or meat broth.
 You get to add this valuable knowledge to your arsenal, chow down of delicious noms, bottle up some yummy immuno-syrup for your enjoyment and wellness then create a sick room spray to take with you to your home or office. HOLY. WOW.
Pre-registration is REQUIRED! The cost of this workshop is $77. You can pay in full or making a $40 deposit by paying in shop, over the phone or online. aLL monies are non-refundable. If making a deposit, remainder of balance will be due upon day of class BEFORE class begins. Please be on time :) and if you are paying the remainder of the class on that day be even a bit earlier..

Things you'll be learning and we will be going over in class:

-The Winter Diet for Wellness 
-Immune Boosting herbs 
-Congee- a traditional porridge
-Immuno-syrups (you get to take one of these home with you)
-Lung care and plant steams...
-Sick Room Spray (another awesome take-home too)!