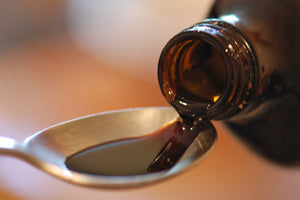 Elderberry Syrup- Local pickup only
Sale price Price $16.00 Regular price
Fresh Organic Elderberry Syrup for local pick up only.
It is made with all-organic ingredients and local honey from just down the street in Glendale, Az.
It's that time of year, viruses and infections are rearing their ugly heads; with traditional herbal remedies we can help our bodies recover faster by boosting our immune system naturally utilizing our herbal allies!
Ingredients: 
Elderberries*: High amounts of Vitamin C and Antioxidants. Elderberry has been proven to decrease the length of and severity of influenza and viral infections
Ginger root*: Helpful with digestive issues, has shown to be effective in fighting viruses and bacteria by supporting the immune system and has also been used to decrease pain
Cinnamon bark*: both Antioxidant and anti-inflammatory it fights free-radicals and defends the body from bacteria and pathogens.
Cloves: an anti-inflammatory herb traditionally used in elixirs to support immunity, historically used for digestive issues, fights germs, pathogens and bacteria by increasing white blood cell count.  
and 
Local Honey from San-Moni