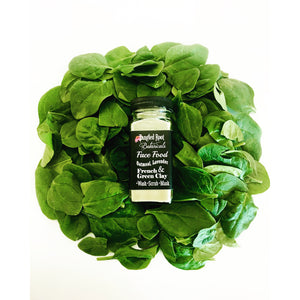 Face Food Wash-Scrub-Mask
Sale price Price $14.95 Regular price
People LOVE our nourishing Face Food Wash!  It's invigorating, fresh, wake-me-up-in-the-morning, ready for your day good!  What's not to love!
Skin supporting Oatmeal and Lavender meet nutrient-dense Spirulina and Spinach! All are bound by lux French green clay and a hint of invigorating peppermint essential oil! 
100% Organic goodness for your sunny disposition!
Key Ingredients:
French Green Clay detoxifies the skin by removing toxins and impurities and is often used to calm and exfoliate skin. It is full of minerals and has a negative charge (what does this mean?).  This means that the negatively charged molecules bind to toxins then rinse off when the clay does ;)
Oats has a tremendous ability to nourish skin and repair damaged skin caused by free-radicals and sun damage. It relieves itching and inflammation and calms problem skin.
Spinach leaf is a power house super food packed with vitamins and minerals; it's also full of free-radical fighting antioxidants that encourage and support youthful glowing skin!
Lavender flowers give oxygen to the skin and have been historically used to decrease redness and irritation. It is antibacterial and antiseptic and regenerates cells...WHAT MORE CAN YOU ASK FOR?
Spirulina aka blue-green algea is full of vitamin e and chlorophyll.  It has been used to brighten complexion and darkness around the eyes. It moisturizes the skin as well as removes toxins like heavy metals.
and 
Peppermint Essential Oil to stimulate and invigorate skin, increasing circulation and providing antibacterial and antiseptic properties to promote clean, clear skin!
*This product is not intended to diagnose, treat, cure or prevent disease. 
Tangled Root Botanicals is committed to crafting earth friendly, plant based products for all!
2.25 oz