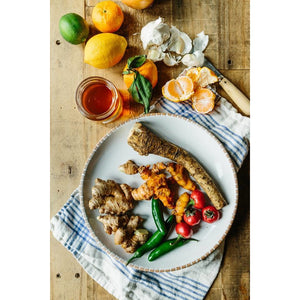 Fire Cider Workshop
Sale price Price $65.00 Regular price $0.00
What is Fire Cider?
Fire cider is a curious combo of bug-eating herbs macerated in apple cider vinegar with honey...a sweet, sour, warming concoction that will definitely make use of your kitchen witchery skills!
I use Fire Cider when I need to burn a virus the hell out of my body with a batch of Fire Cider!
Join us for this fun and informative class and learn what tricks I have up my sleeve when making and serving up these classic remedies!

In this class you'll be learning:
-Herbs traditionally added to fire cider and their properties and actions
- A brief history of Fire Cider
-How to make my original Sonoran Cider
-How to whip up a batch of Fire Cider in a fraction of the time
You will also make and go home with your own jar of Sonoran Cider!
March 25th, 2023  8am-11pm    $65
Pre-registration is required as there is limited space.
All monies are non-refundable and non-transferable.