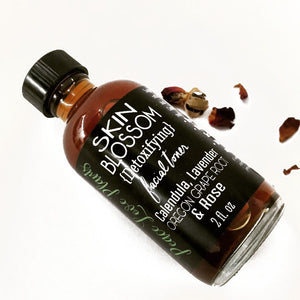 Skin Blossom Detoxifying Facial Toner
Sale price Price $14.95 Regular price
Both cleansing and tonic, Skin Blossom Detoxing Facial Toner utilizes detoxing botanicals to remove impurities and improve lymphatic flow to the tissue making skin feel refreshed and renewed!
Ingredients: Witch hazel, *Rose petals (Rosa gallica), *Calendula flowers (Calendula officinalis), *Oregon Graperoot (Mahonia spp.), Lavender flowers (Lavendula spp.)
*Denotes Organic
-Handmade
-Responsible, Ethical and Sustainable
-100% Recylable Packaging
Tangled Root Botanicals is committed to crafting earth friendly, plant based products.
2 fl. oz