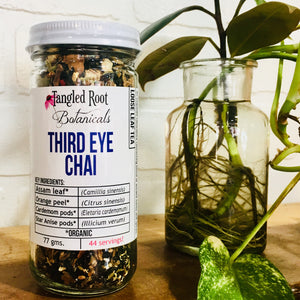 Third Eye Chai Loose Leaf Tea
Sale price Price $21.00 Regular price
Still, Our Best Seller!
The epitome of spice! This blend is fit for royalty- it's the perfect amount of cinnamon and clove, it's aroma, intoxicating.  There are stories behind this perfection that I enjoy hearing all the time as they are gifted to special friends, taken on the road during travels, and sipped on sunshine, snowy mornings.  
These leaves, seeds, pods and blooms of our Third Eye Chai has become a tradition of many households, it is the 'go-to' for creating memories that require sweetness, warmth, love and laughter with hands wrapped around hot mugs.
It is complete sophistication when desired, poured over ice with copious amounts of sweetness and a little slap of your favorite milk. It makes a wonderful alternative to iced coffee that pleases the pallet with its complexity of flavors.
77 gms = 44 servings
Contains: Assam Tea*, Cinnamon bark*, Fennel seed*, Ginger root*, Orange peel*, Cardemom pods*, Peppercorn blend*, Anise star pods*, Clove bud*. 
*Certified Organic
At Tangled Root Botanicals we are committed to crafting earth-friendly, plant-based products. Our products are always handmade, responsible, ethical and sustainable and come in 100% recycled packaging.