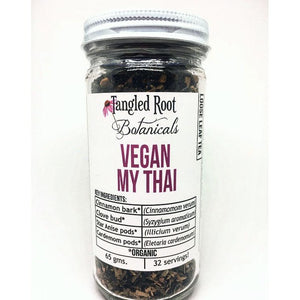 Vegan My Thai Loose Leaf Tea
Sale price Price $19.00 Regular price
Our spin on a Thai Chai, Vegan My Thai is deeper, spicier and more robust than your average chai with strong notes of Star Anise, Cloves and Cardamom.
Key Ingredients:
Assam Tea Black tea originating from India, characteristically full-bodied with a deep, rich aroma.
Cinnamon Bark is spicy, warm and pungent.  It supports the digestive system lowers blood sugar and may decrease the chances of heart disease and diabetes.
Clove bud holds up strong and flavorful with a mulled spiciness spiking this tea to another level of richness and bite!
Star anise pods with its licorice-like essence tells you it's there! Alluring and present with its distinct, full-bodied taste sure to leave an impression.
Cardamom pods even further the complexity of this blend; with it's spicy camphor and citrusy undertones it rounds out to this tea to perfection.
This particular formula is the base of one of our most popular, signature drinks, Vegan My Thai.  We serve it sweetened with organic sugar and a nice dose of Coconut milk.
Vegan My Thai Loose Leaf Tea comes in a recyclable, glass container and holds 32 servings, (65 gms).
*This product is not intended to diagnose, treat, cure or prevent disease.