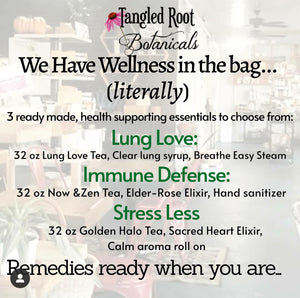 Wellness in the bag!
Sale price Price $45.00 Regular price
Bundle and Save!
Your choice of pre-made remedies for the family or office.  Keep it Healthy AZ, we'll do all the work for you so you can provide your family and friends with exceptional herbal medicine!  Choose from the following remedy selections.  All remedies are vegan friendly!
Curbside pickup or local delivery only...
Lung Love: $45.00
32 oz. of concentrated prepared infusion of Anti-hack loose leaf tea
8 oz Clear lung Syrup
1- Breathe easy Salty Steam
Immune Defense: $42.00
32 oz. of concentrated prepared infusion of Now and Zen
8 oz. Elder-Rose Elixir
1- All natural hand sanitizer
Stress-less: $48
32 oz. Golden Halo Turmeric Chai
8 oz. Sacred Heart Elixir with Tulsi and Rose 
1- Calm Essential Oil roll on